I spent most of the night last night futzing around with the "Walk away Dress"
I think I finally have got it 'wearable' but I ended up having to build a back - almost like a bra strap - to get it to work. I used my geometry skills to make the waistband larger in the circle skirt and to lengthen the skirt a bit as well. And, it came together alright. Tonight I have a few minor adjustments that I'll need my husband's help with and then I can do all the bias tape. I'm staring to think 1/2 my problems with this was the fabric I used - it needed something with more body - and the other 1/2 is my body shape.
While trying on this dress I realized that this particular high neckline style of the 50's really doesn't suite me.
I'm very long from shoulder to apex and without some kind of ornamentation (like a big bow) or a lower cut neckline - there's just the extra wide/long bit of fabric front and center. It makes my waist look even shorter. Sooooo. What's bad is I find myself gravitating toward this look when I buy vintage style patterns. I'm going to either cut new necklines, add some kind of decoration, or just stop buying them! :-\
The dress I was planning to make out of the green check that I have has been put on hold as it was another of this same style. I don't need three of them! (My brown dot dress is like this too - see)
Oh, and speaking of the brown dot dress - I've decided to rip the waist out of it and redistribute the gathers under the bust - they are doing something 'not nice' under there that you can kind of see in this picture on my right side. I'll probably take a smaller seam allowance and see if I can add a little bit more ease under bust. Then I'm going to hem with horsehair braid. I think my current crinoline is a little too full for this dress.
Oh, and for the green check - I'm going to try pull together this dress: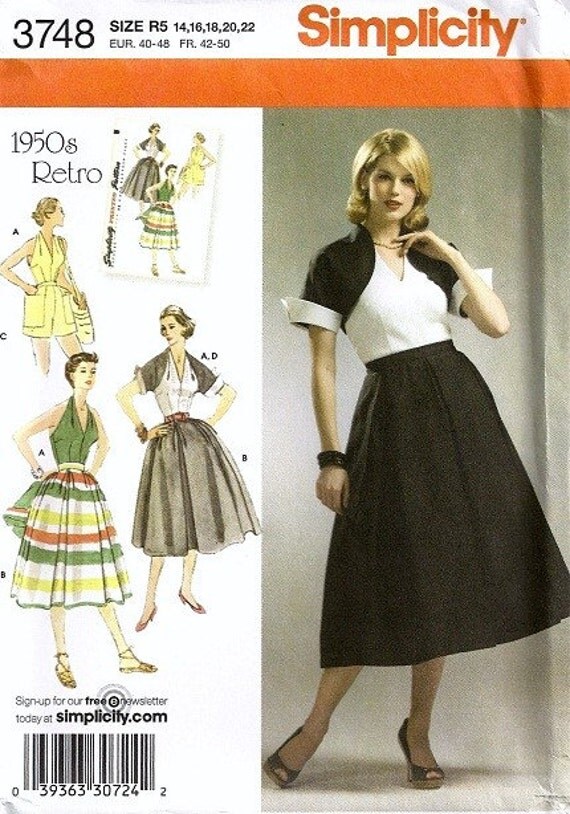 I think it'll probably look pretty in the soft cotton light green gingham that I have - very summery and
Viva
appropriate, I hope.
Viva starts a week from today - so I've really got to start wrapping some of these things up!